Slow Cooker Meal Plan Printable - Budget Friendly Version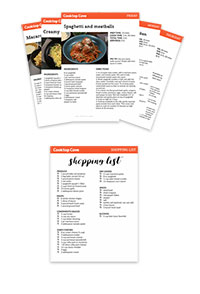 List Price: $4.00
You save 19%
List Price: $16.00
You save 63%
Each week, your meal plan includes:
5 stress-free, tasty dinner meals to serve a family of 4
Budget-friendly: Spend an average of $10 or less per meal to feed a family of 4 (That's $2.50 per person!)
All originally developed and taste tested by Cooktop Cove Test Kitchen, which is run by professional chefs
One grocery list included for entire week of dinners
One-page recipes for easy printing and reading
Recommended side dish recipes (for free!)
Why should I get this meal plan?
Save money by buying a meal plan that actually works. We handcraft the meals week-to-week, so you aren't buying ingredients you won't end up using. We also make sure a meal averages to $10 and can feed a family of 4. (That's $2.50 per person!)

Save time by making only one trip to the grocery store for a whole week of dinners.

Have trusted recipes that actually work. Say goodbye to throwing away that slow cooker meal that failed. All recipes are developed and tested in our Cooktop Cove Test Kitchen, run my professional chefs.

Have extra hours left over to spend time with your family, work on a new hobby, and...enjoy a bath! (I know you thought the last one was too good to be true!)

Support Cooktop Cove and our team of professional chefs and recipe developers. We need to pay our staff and support the site. Our costs include payroll, computer resources, recipe development, ingredients, slow cookers, and more. We put the time in testing and making sure each recipe is awesome, so you don't have to. Thank you in advance for your support!
How do I use this meal plan?
Each meal plan will be delivered to you digitally via email after purchase. When purchasing, be sure to enter the email address in which you'd like to receive your meal plan. With each meal plan, just print it out and take the grocery list with you to the store. After one trip, you'll have a whole week's worth of family dinners. Depending on your family size, you may find yourself having plenty of leftovers with meals lasting significantly longer than just 5 days.

Remember if you are looking for the greatest budget savings, you'll want to get the 4-week plan. That's where the real savings happen because our recipes are optimized to go week-to-week, where ingredients from one week are used in the next, etc.
Testimonials
"The tomato Parmesan pot roast is a favorite in our house now! Easy and delicious! Thank you for making dinner stress free, especially when there's a house full of kids!"

"Shopping once for the whole week has made life way easier!"

"I love my meal plan printables! Finally, recipes I can trust. I love how my ingredients are planned, and I don't feel like I'm wasting anything I've bought!"

"It's great having dinner already planned out. I don't need to worry about finding a recipe online anymore. The printables make it easy, and I know just how it's supposed to turn out! "

"I was skeptical at first..but this is the first meal plan that has saved me real money..."
Slow Cooker Meal Plan Printable - Budget Friendly Version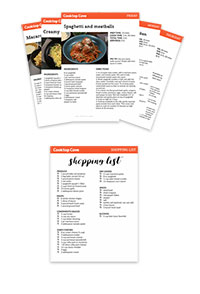 List Price: $4.00
You save 19%
List Price: $16.00
You save 63%